Dunham Hall, built in 2002, is located on the west end of campus and provides a convenient and comfortable environment for undergraduate and graduate students.  These four-bedroom apartments are fully furnished with a great list of amenities.  Dunham Hall is in close proximity to Rec Hall, the Westgate/IST Building, and the White Golf Course.
Air Conditioning
Break Access Housing
Elevator
Laundry (No Fee)
Study Lounge
WiFi
Couch
End Table
Full Refrigerator
Kitchen
Kitchen Table & Chairs
Lamps
Lounge Chair
Microwave
Stove/Oven
TV Stand
Washer & Dryer
Adjustable Height Bed (30-36")
Bulletin Board
Carpet
Desk
Desk Chair
Desk Lamp
Dresser
Hallway/Door Bulletin Board
Mirror - Full Length
Moveable Furniture
Roller Shades
Trash Can
Wardrobe
WiFi
XL Twin Mattress (80")
Room Decoration Guidelines
Students interested in hanging decorations in this hall should use this recommended material: thumbtacks (less than 20). Other material (wall-safe tape, poster putty, etc.) is NOT recommended due to the potential damage to the walls. NO furniture modifications; nothing screwed or nailed into furniture. NO LED tape lights.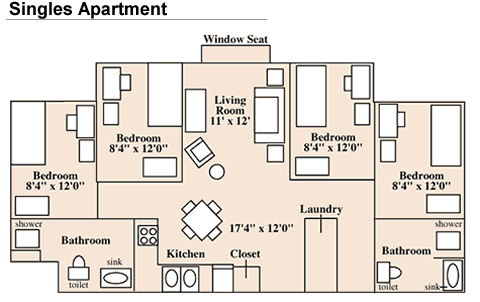 Room diagrams are artistic renderings of representative rooms and may not reflect actual furniture or finishes.
Room & Furnishing Dimensions
Room & Furnishing Dimensions

| Item | Length | Width | Height |
| --- | --- | --- | --- |
| Bedrooms  | 8' 4" | 12' | 8' |
| Bed | 80" | 37" | 3' |
| Mattress | 80" | 36" | 8" |
| 2 Drawer Chest | 1' 8" | 2' 8" | 1' 11" |
| Desk | 2' 6" | 3' 8" | 2' 6" |
| Chair | 1' 7" | 1' 7" | 2' 6" |
| Wardrobe | 2' | 3' | 6' 6" |
| Living Room | 11' | 12' | 8' |
| Kitchen | 17' 4" | 12' | 8' |
Measurements are approximate. The dimensions, furnishings and color of rooms may vary in appearance. All beds are height adjustable. 
Building Floor Plans
To view building floor plans, you must log in with your Penn State Access Account and password.
Take a virtual room tour! 
Living Learning Communities
Image
First-Year Veterans
First-year undergraduate with veteran status who are enrolled in the EDUC 100 Veterans First-Year Seminar are eligible to live in this LLC, which is offered in collaboration with the Office of Veterans Program. The first-year Veterans LLC will give veteran students a space to transition to college with others sharing a similar experience, take a first-year seminar course with others you live with, and engage in a social community with non-traditionally aged college students.
Image
ROAR House
University housing is proud to offer students the opportunity to reside in the ROAR House: Residence Of Addiction Recovery. Students participating in the Penn State Collegiate Recovery Community (CRC), a program sponsored by Student Affairs, are eligible to reside in this living option. ROAR House members are students who are free from alcohol and other drugs and are in recovery from addictions. The "ROAR" is meant to suggest the collective power of students in the Penn State CRC, who affiliated student organization is called Lions for Recovery, will help students work together to be successful in recovery. The ROAR House is just one of many ways that Penn State is supporting students recovering from alcoholism and other addictions. For a student in recovery, the CRC provides a variety of on-campus recovery meetings, recovery events, and offers assistance for students to make connections for other recovery services.
The ROAR House is located in White Course Apartments, which offers four individual bedrooms, two bathrooms, a living room, and kitchen. A washer and dryer is provided in the apartment, and parking permits are available for convenient parking lot located adjacent to the building. Although not required, residents are eligible to purchase the Campus Meal Plan to enjoy the convenience of Penn State Food Services.
While residing in the ROAR House, residents will sign an additional contract with the CRC that indicates his/her agreement to not possess, use, or become intoxicated by alcohol or other drugs at any time. Residents will be asked to not invite visitors who may be in possession of or under the influence of alcohol or drugs.
To discuss your interest in ROAR House, please contact one of the following staff members:
Jason Whitney, Program Coordinator, Penn State Collegiate Recovery Community: 814-863-0140
Jennifer Garvin, Director, Ancillary Services, Housing and Food Services: 814-865-7543
Mark Rameker, Senior Director, Residence Life: 814-863-1710
Contracts
General
Invitations
Request Housing
Waitlists